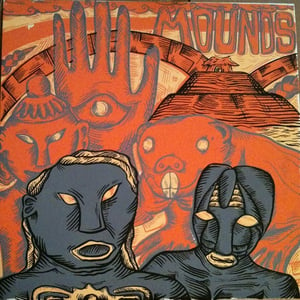 $

13.00
MOUNDS is Tom Hohmann's post-USAISAMONSTER narrative synth prog duo with Alfred Turner. They write songs about early native culture, nature and beyond! This LP comes with an insert and a beautiful 4 color silk screened jacket, limited to 300 copies.
http://moundsmichigan.bandcamp.com
http://www.tinymixtapes.com/cerberus/mounds-mounds-of-earth
Billy says:
"Hey! Billy here. I had a hand in releasing the new LP by MOUNDS, which is Tom Homann from USAISAMONSTER and Alfred Turner from SCARED TO DEATH, Michigan heavies. MOUNDS makes narrative synth prog music that has been blowing my mind for a couple years now. I've seen this band play dozens of times, heard these songs even more, and I really think it is some of the most special music I've ever come across. I have never funded an LP release before and I certainly would not do it unless I was really into it, for whatever that's worth. I am really stoked about this album."